Dean of FIT receives honorary doctorate from Finnish Lappeenranta-Lahti University of Technology
Dean of the Faculty of Information Technology Pavel Zemčík received the honorary doctorate on Saturday. The Finnish Lappeenranta-Lahti University of Technology (LUT) awarded the honorary degree for his contribution to the long-term co-operation between the two institutions.
At Saturday's ceremony, the university awarded honorary degrees to nine Finnish personalities from the world of science and technology and seven distinguished international partners, including FIT Dean Pavel Zemčík. "These are personalities who have been our partners for many years. We would like to thank them for our successful co-operation and strengthen our future strategic partnerships," said LUT Vice-Rector Jaana Sandström.
Pavel Zemčík established co-operation with the Finnish university more than twenty-five years ago, beginning with three research and teaching fellowships he completed in Lappeenranta between 1996 and 1999. Gradually, the co-operation between FIT BUT and LUT began to deepen and today they are important partners in research, education and exchange programmes for students and academics.
"The honorary doctorate is an award that I appreciate very much. LUT is a leading university and I am glad that I stood at the beginning of our partnership, watching as it has grown to become very strong today. I accept this as an appreciation of the co-operation between our faculty and our Finnish partners. When I look at the results that have come out of our collaborative efforts, I am convinced that joint work on research projects and study programmes will bring many more benefits to both parties in the future," said Pavel Zemčík.
The two universities share a research interest, particularly in the field of image processing. Researchers from both institutions have been involved in projects such as multispectral image processing, quality monitoring in wood production and plankton assessment. LUT and BUT even have a joint Master's double degree programme in Computer Vision and are currently preparing a joint PhD programme.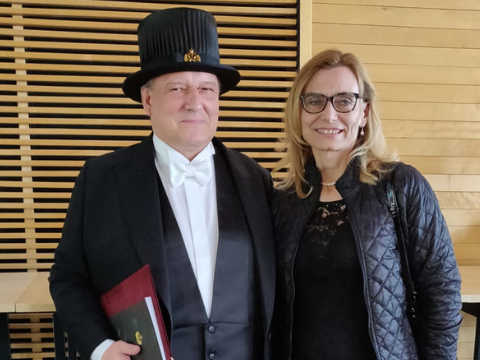 Dean of FIT Pavel Zemčík with his wife. Source: Pavel Zemčík