News
Day: 18 November 2019
Rector awarded prizes to great personages of BUT. The gold medal was presented to Professor Dvořák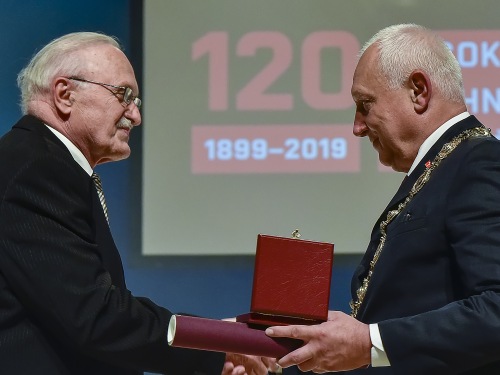 At the Academic Assembly on Thursday, 14 November, the Rector Petr Štěpánek awarded prizes to selected personages of Brno University of Technology. The ceremony took place on the occasion of the 120th anniversary of BUT, the 30th anniversary of the Velvet Revolution and the 80th anniversary of the closure of Czech universities during the Protectorate. He also awarded prizes to a number of FIT personages.
Professor Václav Dvořák received a gold medal for his contribution to the development of computer technology and international co-operation at FIT. Professors Lukáš Sekanina and Tomáš Vojnar received silver medals for their work in the areas of teaching, research and development. A commemorative medal was awarded to Associate Professor Vladimír Drábek and to Torsten Meisner, who co-operates with the faculty.
The Rector also presented awards to the winners of the student poll for the best teacher. The students of FIT have chosen Tomáš Milet in the Bachelor's programmes category and Milan Češka Jr. in the follow-up Master's studies category.