Press Release
Day: 28 January 2021
FIT contributes to the creation of Brno.AI, Brno's new artificial intelligence platform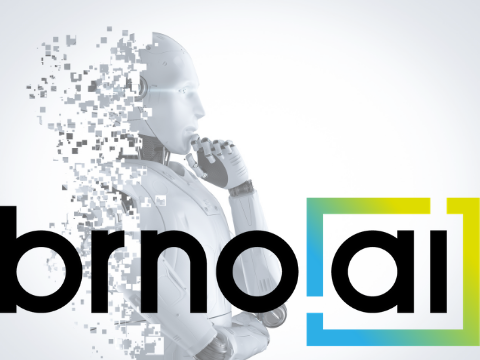 Autonomous cars and receptionists, applications for the visually impaired, voice recognition, virtual power stations or developing a cure for Covid - all this could be achieved by employing artificial intelligence. Brno's experts on artificial intelligence set themselves a goal to achieve its greater practical use and, on Thursday, introduced a common platform - Brno.ai. It was created not only by professionals from FIT BUT and Masaryk University, but also by representatives of IT companies, the South Moravian Region and the City of Brno as well as the JIC innovation agency.
"Brno is the perfect fertile ground for internationally successful artificial intelligence projects," says Petr Chládek, director of the JIC innovation agency, which is responsible for the platform's launch, and adds: "In Brno, high-quality IT departments of local universities meet successful start-ups and established companies, such as Phonexia or Artin, as well as large corporations like Honeywell and Red Hat." The platform's coordinator Jan Bárta thinks that the platform will allow closer cooperation of these institutions and companies on the currently needed projects. He says that the platform is planning to organise regular events where experts and company managers can meet, present their work and network with potential partners. "We started with these meet-ups already at the end of the last year in a trial online regime. The demand was huge - more than a hundred experts from Brno's companies and universities signed up for the first event," Bárta adds.
Brno already has several leading companies that won recognition in the area of artificial intelligence. A BUT spin-off company Phonexia, for example, is an internationally successful company specialising in innovative speech analytics and voice biometrics. Bringauto, an autonomous vehicle constructed by Artin in cooperation with FIT's specialists, has recently passed its first test drives. And there is also Kinalisoft, a supplier of an AI-based production quality control systems. "We believe that the platform where experts can meet will give a boost to similar companies and put Brno - and not only Brno - on the world AI map. It certainly has the potential to do so," says Bárta, adding that the platform is counting on cooperation with other regions, including Prague and its prg.ai platform.
The dean of the Faculty of Information Technology of BUT, Pavel Zemčík, finds the platform helpful for the development of AI in Brno: "Our researchers have years of experience in putting artificial intelligence into real world applications and have worked together with the industry on a number of research and innovation projects. The new common platform is very important for the whole region - I believe that sharing the know-how, real world experience and opportunities can help Brno and the South Moravian Region find its place on the world map of artificial intelligence." Professor Antonín Kučera from the Faculty of Informatics of Masaryk University has a similar view on the creation of the platform: "AI has been gradually finding its way into all science fields. At Masaryk University, many research groups are actively using or developing AI-based tools. The platform could help us make all of that more efficient and bring scientific research closer to industrial practice."
The city of Brno and the South Moravian Region also support creation of the platform. "Artificial intelligence is one of the most promising fields of science, research and business. We would not want to miss this opportunity to efficiently connect these areas and start intensive communication among individual participants, who otherwise often seem to focus only on their own thing and share very little with others. Most importantly, our objective is to debunk the myths surrounding AI in the eyes of the public and showcase its numerous benefits, not only threats," says Jiří Hlavenka, Member of the Regional Council. Deputy Mayor Tomáš Koláčný agrees: "Artificial intelligence is widely used not only in futuristic scientific areas, but also in every-day situations - it helps with automation of routine activities, provides for cybernetic security in the sense of intelligent supervision over city infrastructure and personal security in the form of intelligent management and optimisation of transport in the city. I think it is likely that artificial intelligence is about to become the next pillar of Brno's prospering IT sector."
Some of the multinational corporations with workplaces located in Brno also contributed to the creation of the platform. Honeywell is one of them. Its representative Tomáš Szaszi points out that many similar platforms exist around the world. However, not many of them can profit from a successfully working ecosystem that meets the requirements for long-term stability, such as the one that exists in South Moravia. "Brno.AI interconnects the principal components of the local ecosystem, including universities, municipalities, start-ups and industry, with the objective of mutual cooperation and faster application of the given technology in practice," concludes Szaszi.