Press Release
Day: 14 October 2020
Smart greenhouse of FIT students saves water and extends harvest season until Christmas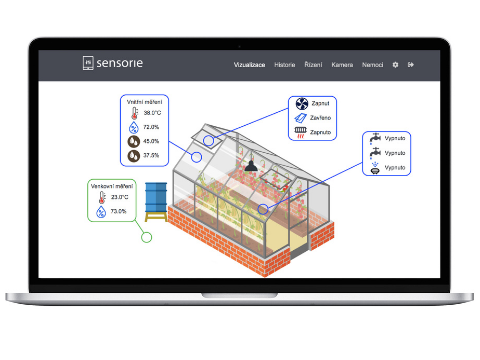 Not just hoes and shears - even mobile phones, computers or tablets can be used for gardening. Smart greenhouse created by FIT students David Bažout and Daniel Kolínek can be controlled remotely, will extend harvest season until Christmas and saves water at the same time. This was one of the reasons why their Sensorie project ranked among the best project at the SDGs Awards 2020, unique awards for meeting the UN Sustainable Development Goals.
Controlling of opening of greenhouse windows and irrigation using rainwater or recognising one of over thirty diseases through symptoms manifesting on leaves, the smart greenhouse project created by FIT classmates David Bažout and Daniel Kolínek can do it all. The Faculty incubator Star(t)up@FIT also helps them to start their company Sensorie.
"The idea came to us last summer - it was just a spontaneous idea we got while sitting on a park bench. We immediately started working on it, in fact, we have gone almost without any sleep for two weeks," laughs David Bažout. Soon after that they created a website and a questionnaire which the students sent out to several gardening groups. "It was nice to see others support us and it motivated to us to actually build a smart greenhouse," recalls Daniel Kolínek.
An old greenhouse belonging to David's parents became the place where they conducted their early experiments. "Most of the parts were very old and were just taking up space in our attic. We used a decommissioned convector heater for heating and for example the fan was older than both of us combined. It was not perfect, but in a couple of weeks, the world's first smart greenhouse was born," describes David Bažout.
Today, they have their own supplier of electronics and you can see their project in practice at the Open Gardens. "This year we offered our solution just to a couple of people at the acquisition price. In essence, it was a test operation; we needed to receive feedback and finalise the product so we could obtain certification. That should happen in the near future; we are accepting pre-orders for next year," explains David Bažout.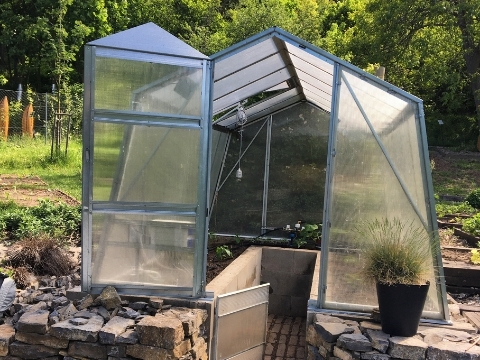 How does it all work? The cornerstone is the control unit to which all the other components are connected - soil and air temperature and humidity sensors and other auxiliary equipment such as night-vision camera or electric window opening. The control unit can be connected to a WiFi network and controlled over a phone, computer or tablet from anywhere in the world.
"You can set the exact conditions you want to maintain inside the greenhouse using a simple setting. In case the user has no experience with growing plants or is unsure, the user interface contains a help feature which can give them advice for growing usual plants such as tomatoes, cucumbers or peppers. You can select between an economic or turbo growing mode, but it is also possible to switch to manual control which allows the user to customise the conditions," describes Daniel Kolínek.
The gardener selects or sets the temperature and humidity ranges and the control unit will then maintain said conditions by opening and closing the window or starting and stopping the fan, electric heating or irrigation system. The system can also recognise over thirty different plant diseases based on a picture of the plant.
"We focused on vegetables most frequently grown in Czech greenhouses. After studying diseases and their symptoms in detail, we proceeded to download a large number of photographs from the Internet. All photographs had to be carefully cropped, sorted and processed by a neural network. Currently, we want to improve the neural network and increase the number of detectable diseases on the basis of photographs we will receive from users," Daniel Kolínek laid out his plans. People can also watch the ripening crops via camera which also watches out for thieves and other pests.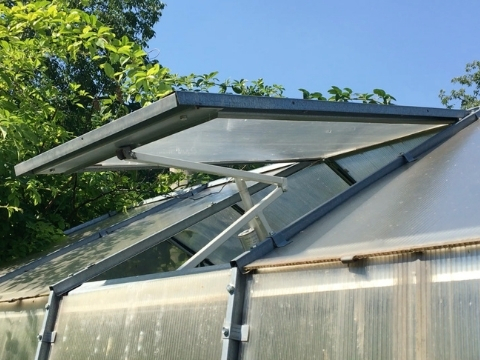 This project of Sensorie founders aims mainly on gardening enthusiasts, who can then extend the harvest season well into winter, but also to those who cannot attend to growing plants every day. "For example, one of our clients is a cottage-owner who lives in Prague and cannot attend his greenhouse regularly. Now he always knows what is happening inside of the greenhouse and the crops will be taken care of even if temperature starts dropping below zero," describes David Bažout.
As he pointed out, based on their own experiments, they learned that thanks to controlled conditions inside the smart greenhouse, the growing season was extended by three months and the plants were more resistant against various diseases. Furthermore, smart greenhouse also saves water - thanks to soil humidity sensors it only irrigates when needed and it can make do with rainwater.
"The future lies in green technology and investments in long-term sustainable solutions," says David Bažout. Consultants from the Star(t)up@FIT programme also help them grow their business. "For me, personally, the biggest contribution was especially at the very beginning - just the realisation that I can work on something of my own, but also the basic information on what you need to do to start your own business. I never thought about that. Now the programme's consultants help us with specific things, such as how to negotiate with business partners, and they also arranged consultations with a neural network expert from FIT for us," describes David Bažout.
Currently, the founders of the new Sensorie company focus on sales. Sales should begin in a couple of months. In the future, they plan to improve the neural network for plant disease detection and automation and offer a solution for example to market-gardeners.