Embarking on a Cybersecurity Journey with Suricata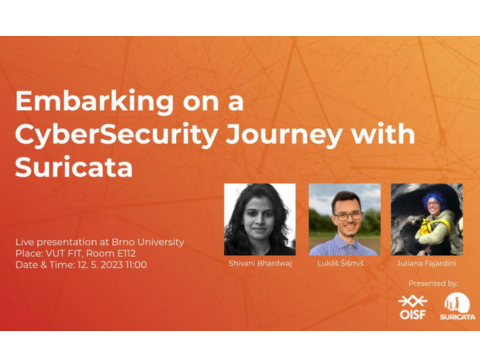 Join Juliana, Shivani, and Lukáš in a fascinating exploration of the cybersecurity field, using a powerful open-source tool called Suricata. This presentation focuses on network monitoring and malware detection, illustrating the importance of open-source solutions in cybersecurity. The cybersecurity overview is complemented by a hands-on demo showcasing the features and capabilities of Suricata, familiarizing participants with methods to tackle cybersecurity challenges in their environment.
Juliana Fajardini is a Suricata code developer since 2021. She also writes documentation and mentors interns who join OISF via the Outreachy initiative. Juliana loves reading, swimming, biking, traveling, and eating.
Shivani Bhardwaj is a core Suricata developer working on mainstream Suricata, its helper tools, and internal tooling to make development and releases easier. Shivani loves great memes, good food, and all things fluffy.
Lukáš Šišmiš is a Ph.D. student and researcher at CESNET by day and a core Suricata developer by night where he focuses on Suricata acceleration through DPDK.
The lecture takes place on Friday, 12 May 2023 at 11:00 at
FIT BUT
, room
E112
.
Please let us know your participation using
this form
.