News
Category: news
Day: 11 March 2021
The European SAUCE project involving FIT will provide smart content to help video content creators and game developers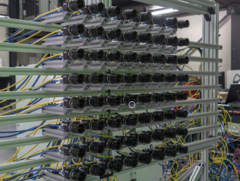 Can digital content be created in a smarter, better, faster and cheaper way? That was the main question for the European SAUCE project, in which the BUT Faculty of Information Technology collaborated with four other universities and three industry partners - Disney Research, a part of The Walt Disney Company, DNeg - the maker of visual effects for many recent blockbuster films, and Foundry - the creator of one of the most popular TV and film post-production programs in the world.
The project has produced a number of innovative approaches based on research into lightfield technology. This technology will make it easier for the film and videogame industry to increase the efficiency of 3D content creation in the future, allowing the content to be reused and adapted to new conditions and user needs. FIT Researchers were involved in research into lightfield processing and its acceleration using state-of-the-art hardware. The project also included procedural animation and a system enabling video and game makers to perform semantic searches in huge collections of existing digital content.
The researchers worked on the European SAUCE project, funded under the European Horizon 2020 program, for three years. Some of the results are presented in a video available HERE.