Press Release
Day: 24 September 2018
Mobile app OneProve can distinguish between an original and a counterfeit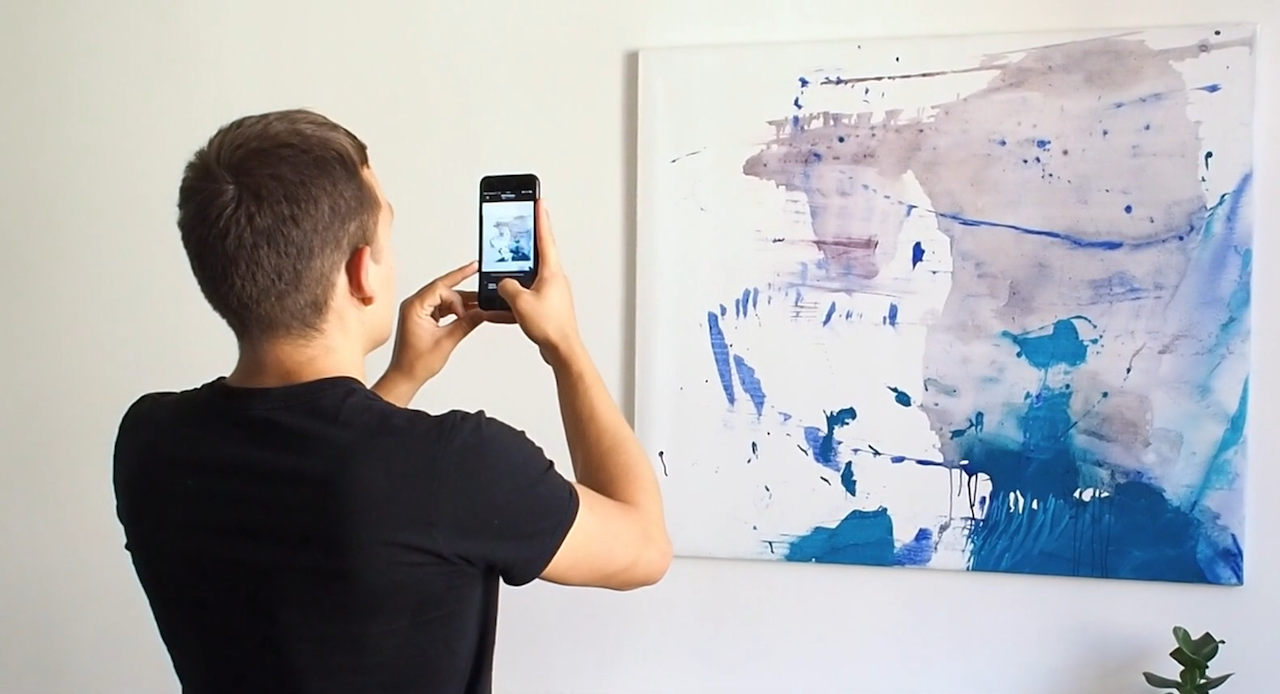 All it takes is one or two photos taken using a smartphone for the OneProve app to be able to evaluate whether the item is an original or a counterfeit. It can recognise counterfeit paintings, brand handbags, clothes or legal documents. The app which combines artificial intelligence and mobile technology is the first of its kind in the world. What is more, scientists from the Faculty of Information Technology of BUT participate in its development.
It all started with the Artstaq art exchange founded a couple of years ago by Roman Komárek. However, he soon learned that despite the fact that purchase of a work of art is usually a good investment, people do not trust purchases of paintings conducted online. That is how the OneProve start-up came to be. "I was approached by its founders who asked if it would be possible to use artificial intelligence to create a solution which would be able to tell an original painting from a counterfeit. So that it would be possible to trust online purchases and it would be easy to use by the buyers," described Kamil Behúň, doctoral student from the Faculty of Information Technology. Currently, he is one of three founders of a start-up company in which he is responsible for technological development. If he encounters a problem, he consults his colleague from the faculty, professor Adam Herout, a consultant for OneProve.
The app uses algorithm to evaluate the structure of the photographed detail of the painting and compares it to the original whose authenticity has been confirmed by an expert and which is stored in the database. "To evaluate a painting, a photographs of the entire work is not enough, we also need a close-up photograph so that we can capture its unique micro-structure which would be extremely hard to imitate. In paintings, this includes brush strokes, the flow of paint or the imprints left by bristles. No forger can imitate these characteristics perfectly," explained Behúň.
Sufficient resolution of most current cameras used in mobile phones allowed the developers to program the app so that it would be as simple to use as possible and would not require any additional equipment. "Technology-wise, it is more difficult for us because our algorithms must be able to do more than would be required if we relied on our own sensors instead of phones. Despite this difficulty, we have managed to achieve great precision. We are able to not only distinguish between paintings but also detect imitations of various other materials including textiles, leather or paper," added Behúň. He states that the app can even distinguish between two prints printed on the same printer and on the same kind of paper. It can do so by detecting the differences in the microstructure of two pieces of paper and the way the ink runs on their surfaces. Thus, in the future, the app may be useful for verifying the authenticity of various documents and certificates of law firms.
The original purpose of the app was to help people with purchasing paintings online, however, it has been found that it is useful for a far wider group of users. "One such example are owners of galleries or individual works of art. If they lend a painting to be exhibited somewhere for two years, they want to be sure that the same painting will also return to them afterwards. Thanks to this app, they can easily verify its authenticity," said Behúň. Shipping companies transporting the paintings are other potential users of the app. The will scan the paintings at the seller and in case the buyer will not receive the same painting, it will be much easier to determine the exact part of the purchase process during which the painting has been lost and who bears the responsibility.
OneProve is making a name for itself on the art market; it has already established co-operation with many galleries all over the world and also large auction houses in the United States of America and Switzerland which verify the authenticity of famous works of art. Currently, its database contains several thousand verified paintings; when it comes to some of the better-known Czech painters, it includes for example the paintings by Jan Kotík. However, the number of users of the app does not grow as quickly as the founders originally hoped. "It takes a long time, because we are trying to promote a revolutionary solution in the field of art. This is a very conservative field. On top of that, it is dominated by corporations and approval processes take long. In this field, the app is often used by people who are not particularly tech-savvy, and, as a result, its controls must be very intuitive. On the bright side, we have enough time to process feedback that we have received from users and modify everything to their satisfaction," described Behúň.
OneProve will not focus solely on works of art, it will also expand to the brand fashion goods market and legal documents. Developers are therefore working on prototype application suited for these areas as well. "Our solution is truly unique and can be used in various sectors and with various products, for example, jeans, wallets or handbags. There are other apps, for example ones focused on verifying the authenticity of brand handbags, but these require you to use a special camera to take a photo of the material and upload it to a database. Our solution greatly simplifies the entire process," added Behúň, finishing his explanation. He also confirmed that the start-up engages in negotiations with several business partners selling brand clothes and, it is expected that in the future, large foreign e-shops such as eBay or luxury fashion brands will also show interest in using the service. The investors, whom OneProve could handpick thanks to the huge interest, also see the future in bright colours. Last year, OneProve received a huge financial contribution from the STRV software developer company, it also received support from mr Fund.