Press Release
Day: 1 March 2021
FIT doctoral student looks for bugs causing apps to "freeze"
Every day, we rely on the flawless functioning of dozens, if not hundreds, of applications and programs running on our computers, be they web browsers, information systems, communications software, or a multitude of hidden programs running in the background. We have come to expect applications not only not to crash suddenly, but also to respond very quickly to our commands. However, every user has experienced a situation where a new update to an important app caused it to slow down noticeably or even freeze up completely. This is exactly what Jiří Pavela, a doctoral student from the Faculty of Information Technology of Brno University of Technology, who is also one of the awardees in the Brno Ph.D. Talent competition, wants to prevent.
In his research project, Jiří Pavela is designing and developing new techniques and approaches for application developers to help them effectively detect errors that deteriorate application performance. "Although many tools already exist for this purpose, using them for very large projects with millions of lines of source code is often very time-consuming. So my aim is to achieve a noticeable acceleration and refinement of similar tools. This should be another step towards fewer and fewer annoyingly slow or unresponsive applications in the future," explained Pavela, who has been doing research practically since his Bachelor's degree studies.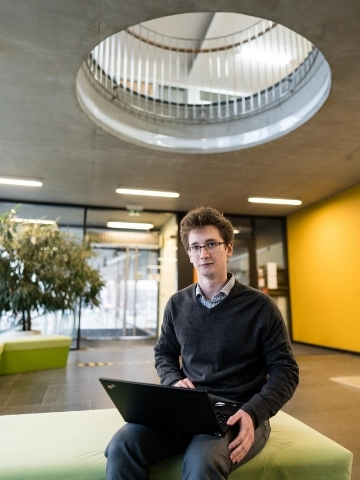 He received valuable feedback on his work also at the Excel@FIT conference | Author: Jan Prokopius
Today he pursues the same topic as a doctoral student at the Department of Intelligent Systems under the supervision of Tomáš Vojnar and Tomáš Fiedor. He has received feedback for his tool from RedHat, a company with which he has already discussed cooperation. The Excel@FIT conference, where representatives of commercial partners evaluate individual IT projects, also helped him significantly. "We received very helpful feedback, for example from companies like Honeywell, telling us whether the solution was actually applicable in practice and we know what we need to do to deploy it in a real company," said Pavela.
His bug detection tool is designed for large-scale software, for example cloud solutions from Microsoft or Amazon, applications like Facebook, etc., where developers are faced with millions or tens of millions of lines of code in which they have to look for a problem that slows down or crashes the application completely. "We want developers to be able to detect bugs faster and more accurately whenever possible. The tools available cannot be used in such complex and complicated projects. Moreover, the fact that my research was among the winners of the Brno Ph.D. Talent competition proves to me that my dissertation is meaningful and can have a positive impact in real life and influence the work of many other people," said Pavela, who is now in the first year of his doctoral studies and the award will allow him to receive a scholarship for three years so that he can devote more time to his research.
The beta version of the program is now available on GitHub, where users can test the tool for free and provide feedback to its author. "I dare say that after three years of development, my solution should actually be usable in practice, and hopefully others will try to implement it further, get it up and running and start using it in their companies," concludes the successful FIT student.
(rdk) zvut.cz