News
Category: news
Day: 21 May 2021
New app developed by FIT students helps people find barrier-free vaccination and testing sites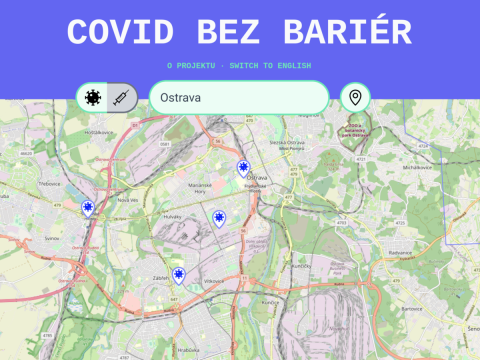 The new Covid without Barriers web application aims to facilitate vaccination and testing for persons with reduced mobility. The application is the brainchild of two FIT students - Josef Kolář and Peter Uhrín. The app, which was originally developed as a part of the WAP course, allows users to find wheelchair-accessible vaccination and testing sites on an interactive map.
Covid without Barriers is the only application that processes this information. "We need to give the vaccine to as many people as possible. There are a number of apps dealing with pandemic-related data, but when we were researching them, we noticed that none of them made it possible for us to directly display wheel-chair accessible sites," says Josef Kolář, describing how the idea came about.
The app, whose features and name the students discussed with the community of its potential users, accesses publicly available data through an API. The map shows wheelchair-accessible testing and vaccination sites at specific locations, and for each of these sites, a detail can be viewed that includes its address, services provided and references to detailed information in government-run applications. "It is also possible to search for sites based on the user's geographical location or address. The application also provides filters for individual site categories, so it is possible to display only vaccination or testing sites," explains Peter Uhrín.
According to him, the most challenging part was to create a simple and accessible user interface; it also took some time to test and optimise the app for mobile devices. The app is now fully deployed and is being used by dozens of people.